Aviation Products for the Homebuilder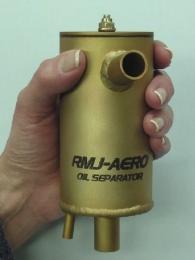 RMJ-AERO is now producing oil separators for homebuilders using Continental and Lycoming engines. These separators are designed to remove oil from the engine crankcase breather line providing the builder with a cleaner plane, less oil consumption, and prolonged engine life from maximum cooling, cleaning, and lubrication, not to mention helping to preserve a cleaner environment.
Click these links for more information:
Oil Separator - Our premiere product
Installation Guides - For general, Lycomings & Continentals
RMJ-AERO Gallery - Pictures of actual installations.
---
Specifically designed for 65-100 horsepower Continental engines, RMJ-AERO offers the RMJ-AERO Aerobatic Elbow, our new accessory that functions like the Continental crankcase breather originally used on the Cessna 150 Aerobat. It is fabricated from a standard AN aluminum elbow and tube extension. RMJ-AERO fabricates these parts using aircraft quality TIG welded construction.
Click this link for more information:
RMJ-AERO Aerobatic Elbow - Alternative for Continental engines.
---
RMJ-AERO, designs and builds aviation products for the homebuilder. We can custom design and or fabricate components for your homebuilt from your sketches or drawings.
Click this link for more information:
Custom Fabrication Services - Help with unusual installations.
For additional information, contact RMJ-AERO by mail or email info@rmjaero.com.
---
RMJ-AERO Pages

[RMJ-AERO Main Page] [Oil Separator] [Custom Fabrication Services]
[General Installation Guide] [Separator Maintenance] [Aerobatic Elbow]
[Continental Installation Guide] [Continental Clamp On Adapter Installation Guide]
[Lycoming Installation Guide] [Lycoming Clamp On Adapter Installation Guide]
[Prices & Warranty] [RMJ-AERO Gallery]
---
RMJ-AERO
Aviation Products for the Homebuilder
402 Tyrone Drive
Forsyth, IL 62535

E-Mail: info@rmjaero.com


Join & Support The EAA And Your Local EAA Chapter
God Bless The USA