Oil Separator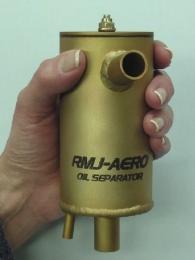 Oil Separator
RMJ-AERO is now producing oil separators for homebuilders using Continental and Lycoming engines. These separators are designed to remove oil from the engine crankcase breather line providing the builder with a cleaner plane, less oil consumption, and prolonged engine life from maximum cooling, cleaning, and lubrication, not to mention helping to preserve a cleaner environment.
Fashioned after Tony Bingelis's proven design, these separators incorporate several enhancements, including O-ring seals for the lid. RMJ-AERO separators are fabricated from aircraft quality materials, TIG welded, and alodyned for corrosion control.
They can be firewall or cooling baffle mounted with the cushion clamp provided. The separator's design allows for easy installation in the breather line by the use of hose clamps. Oil from the separator is returned thru tubing, to a port in your engine's housing.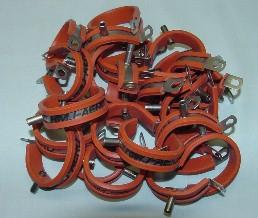 Should your engine not have an available oil return port, RMJ-AERO can provide a Self Sealing Clamp On Adapter utilizing your engine's oil filler neck. Installation of this adapter is easy for both flying and aircraft under construction. When clamped in place around the filler neck, the adapter provides a return port for separated oil and an integral seal, which prevents leakage.
Installation and maintenance guidelines are included. Separators and adapters are available from Aircraft Spruce & Specialty or RMJ-AERO. Contact Aircraft Spruce for pricing. You can also order your separator, clamp on adapter and spare parts direct from RMJ-AERO using PayPal, money orders, or cashiers check. See ordering information and pricing on the following page. We typically ship the day after receipt of payment and ship via USPS Priority Mail. Your order will typically take 2-3 days to arrive.
---
Click these links for more information:
For additional information, contact RMJ-AERO by mail or email info@rmjaero.com.
---
RMJ-AERO Pages

[RMJ-AERO Main Page] [Oil Separator] [Custom Fabrication Services]
[General Installation Guide] [Separator Maintenance] [Aerobatic Elbow]
[Continental Installation Guide] [Continental Clamp On Adapter Installation Guide]
[Lycoming Installation Guide] [Lycoming Clamp On Adapter Installation Guide]
[Prices & Warranty] [RMJ-AERO Gallery]
---
RMJ-AERO
Aviation Products for the Homebuilder
402 Tyrone Drive
Forsyth, IL 62535

E-Mail: info@rmjaero.com


Join & Support The EAA And Your Local EAA Chapter
God Bless The USA